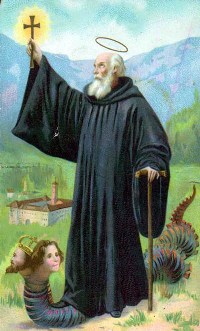 The Order of Vallombrosa, of Benedictine spirituality was founded in 1039, at the site of the same name (valley of the shadow) by Saint John Gualbert (pictured), the prominent noble family of Florence Visdomini, which he did until impossible to make them quit their idea. John, become regret after killing an enemy of the family, was first a Benedictine monk at Saint Miniato, then was Camaldolensian, but disappointed by the mediocrity of his monastic environment, he wanted to return the austere ideal of Saint Benedict, finding in seclusion solitude and the ideal of seeking God through penance, contemplation and the cultivation of virtues. Order divided the religious and secular, being the first to adapt the rules to the laity (1).
The Order was approved by Pope Alexander II in 1070 and came to have many monasteries, drastically reduced by the wars of religion and monastic relaxation. Pius II completed the reform of the Order had begun Eugene IV, which merged with the Order Silvestrina in 1662, but 18 years later became independent. Thrown from his home until 1963, not reoccupied the monks. Today it has 10 monasteries, all in Italy. Saint John Gualbert was canonized by Pope Celestine III in 1193 and is patron of workers and forest guards (at the valley of the shadow).
January:
7: Saints Timothy and Luciano, african martyrs. (2)
20: Blessed Benedict Ricasoli of Coltibuono, hermit.
February:
1: Santa Veridiana of Castel Fiorentino, pilgrim and recluse. (It is unclear whether it was recluse lay of the Order).
8: San Pedro Ígneo, monk and bishop.
9: San Erico of Vallombrosa, the third General of the Order.
March:
10: Blessed John of Vallombrosa, monk.
24: Belssed Berta of Cavriglia, abbess.
May:
20: Blesseds Jerome and Orlando of Vallombrosa, hermits. (And 1 August)
22: San Aton of Pistoia, abbot and bishop.
Saint Humility (Rosana) of Faenza, wife, prisoners and abbess, founder of the nuns.
July:
12: Saint John Gualbert , father and founder.
August:
1: San Rodolfo of Vallombrosa, the second General of the Order.

November:
9: Blessed Joan of Signa, virgin recluse. (some say was a Franciscan tertiary, but it is doubtful).

December:
4: Saint Bernard of Parma, fourth-General of the Order, bishop and cardinal.

---
(1) therefore were not the mendicant Francisco and Sunday the first to "create" tertiary, as we read there.
(2) do not know why, but the Acta Sanctorum said to appear on the calendar vallumbrosano on this day, although the Roman Martyrology brings to 13 January. For similar cases, is likely to have had their relics and party at the Mother House, the monastery of Valleumbroso and, over time, have passed the Order. Anyway, they are martyrs of old, with nothing to do with the Order.
By Ramon Rabre (text) and Marco Antonio Martinez Ruvalcaba (translation)