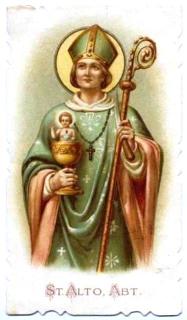 Question: Hello, you can tell me why this saint has the baby Jesus in a chalice. Any Eucharistic miracle, perhaps?

Answer: Hello, friend! even though it's not within the traditional and venerable Eucharistic miracles, especially because it is an isolated incident, to be related to the Eucharist, yes that could be given this title in this event that happened to:
Saint Alto of Altomünster, hermit, founder and abbot. February 9 & November 5.
There are differences in the origin of Alto, while some do English, others brought in from Ireland, but the name has Germanic origin, so ... The common view is that it was an eighth-century Benedictine monk who, after a while as a hermit, was devoted to pilgrimage to various shrines.

His "life" was wrote by the monk Otloh of the monastery of San Emmeran of Regensburg in 1060, and he´s the one who says that Alto was a Scottish monk, companion of St. Virgil of Salzburg (November 27). He settled near Augsburg, where he preached the Gospel and created his best work, the monastery that bears his name "Altomünster", or "Monastery of Alto", in Baviera. The origins of the monastery also rub the legend or at least the desire to do so important: According to this, the land was donated by Pepin the brief and the church was consecrated by St. Boniface (June 5). Other common miracles are therefore the bear that eats the beast of burden and then he does the work, the scarcity of water and the saint opens a fountain with his staff.

The monastery lived boom times in every way: artistic, pastoral, economic, political, until he began to relax and plummet. According to some chronicles of the monastery, in 1000, San Alto appeared to the Duke of Bavaria, commanding restore the monastery. Brigidine nuns currently are the tennnts from Since 1487.The cult to St. Alto was initially limited to Altomünster, Weingarten (these sites are relics from him) and Freising, it extended to all Baviera, celebrating its feast on 9 February. In writing this "life" and give foreign origins, became a figure in Scottish and Irish martyrologies marks the 5th of November.

Otloh is the one referred to (and finally got to the point) than in the opening Mass of the monastery, raising the chalice and host, this became a beautiful child in the eyes of Alto, a fact that has become his primary attribute. It's a miracle that often read of other saints.
By Ramon Rabre (text) and Marco Antonio Martinez Ruvalcaba (translation)