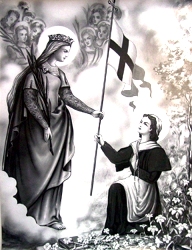 The monastic order of the Ursulines was founded by St. Angela Merici (pictured) in 1535 in Brescia, for the education of girls. His idea was to return to the simplicity of consecrated virgins from apostolic times, and therefore the first members had no monastic vows, but they lived in his own family and social environment, which should evangelize to their testimony, especially for other women, starting with girls. That´s why It is modeled on Saint Ursula, the legendary saint who had taken up to heaven to 11,000 virgins.
It was a pioneer on its time, because the religious nuns were confined,there was not like today, the congregations of consecrated and secular. the education from the nuns was a punctual and had not a specific charism. In 1536 and 1544, the order was recognized by the Bishop of Brescia and Paul III, respectively. It Spread outside Germany, especially France, which was their main center of expansion. In 1618 Paul V made ​​them confined nuns, under the rule of St. Augustine, but continue educating girls. Currently they no longer live in confinment and they are very present in the missions.
January:
24: Blessed Ana of the Holy Spirit, Ursuline Saint Omer, virgin. Since the nineteenth century figures as blessed, apparently it is a confirmation of worship.
27: Saint Angela Merici, Mother and Foundress.
April:
28: Blessed Ana de la Vesvres, virgin. Has not been officially beatified.
30: Blessed Marie of the Incarnation, mother, religious foundress in America.
May:
5: Blessed Catherine Cittadini, virgin, foundress of the Ursulines of Somasca.
18: Blessed Blandina Merten, virgin.
29: Saint Ursula Ledóchowska, virgin and foundress of the Ursulines of the Agonizing Heart of Jesus.
July:
9: Blessed Maria Ana Dupeyre, Guilhermier Mary Anne, Mary Anne Lambert, Mary Anne de Rocher and Clara Rosalie Berry, virgins and martyrs of Orange.
27: Blessed Mary Klemenz Stazsewska, virgin and martyr.
September:
3: Blessed Brigida of Jesus Morillo, virgin, foundress of the Ursulines of Mary Immaculate.
October:
17: Blessed Maria Natalia de San Luis Vanot, Mary Laurentina of San Estanislao, Maria Ursula de San Bernardino, San Francisco María Luisa, and María Agustina of the Sacred Heart, virgins and martyrs of Valenciennes.
21: Saint Ursula of Colonia, virgin and martyr, and inspiring model of the Order.
By Ramon Rabre (text) and Marco Antonio Martinez Ruvalcaba (translation)