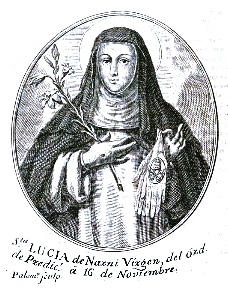 Question: well I did not know that there was another stigmatized dominica than Catherine of Siena, and those pope gloves, what that symbolize? I think I'll bore you with all that doubt that comes from seeing these images.

Answer: Not at all, man, you're not going to bore me, you know this whole issue of the iconography, saints, legends and so on, I love it. Well, I tell you something of Lucia of Narni:
Blessed Lucy of Narni, wife, virgin, dominic tertiary. 16 November.
As in many lives of saints, Lucia was the daughter of noble and virtuous parents and since she was a child she stand out for his piety as well as for the gift of prophecy, without an error on her predictions, in both family, and public matters. She did not play like other girls her age, but her entertainment was decorating small altar and pray prayers to Mary and the saints. At 5 years, being in a church, she asked to an image of Mary to give her baby in her arms to her, at which the image agreed, becoming the child of stone to flesh. Achieved its purpose she took him home, where he was for 3 days, which she didn't left him not even to eat or sleep, until the child returned itself to his place. During his childhood and adolescence had several serious illnesses, of which she was healed thanks to her prayers to the saints of their devotion, among which were, of course, Saint Dominic of Guzman.
As its, liking of the saints became a sincere devotion and to a familiar feel in her prayer to God, who gave her several visions and apparitions of saints, with whom he had treated as equals. At age 7, she did not hesitate to take a vow of chastity, that God himself endorsed giving a ring as his wife (a common occurrence in the same holy order), while Saint Dominic of Guzman (8 August and 24 May) imposed on her a Dominican scapular. So she devoted his heart to God, so rejected several suitors, as long as God did not say explicitly wich state she should take, whether religious, secular virgin. But she had a vision of the Virgin Mary, who ordered her to be like herself: married and a virgin. That is, the legend says that a pact with the promise that eventually accepted, having a white marriage, meaning to maintain the purity.
The "Holy Dominican Journal" says "We must assume that God wanted this he set all meanings to make this happen," understanding the practical difficulty of such a state of life, which is neither one thing nor another. We need to understand the mentality of the era, which lasted until recently, where virginity was considered a virtue and higher status to marriage, as if sex was something that gets away from virtue and holiness.
Anyway, they tell us that she continued her life of penance, prayer and charity. She was not swept away by the luxury or the appearance of the comfortable life that she could have led. She was humble and she was indeed, coming to work as a maid, in the dirtiest jobs of her home. He was patient with her ​​family and her husband´s family, who did not understand her austerity and gentleness with the servants, and her horror with the ornaments, makeup and expensive clothes. And even more patient with her ​​husband, who abused and humiliated constantly, going so far as locking her in a cellar, as punishment for her "antics". And here It take matters into this the ecclesiastical authority, separating from her husband (the failure to consummate the marriage was an advantage, at the end).
Since then, being free, She continued her desire for perfection and holiness, for this she entered the Third Order of St. Dominic, and to avoid problems with her ​​husband and family, she was sent to Viterbo. In this monastery She was given the impression of the stigmata of the Passion. By their example, persuasion and authority, she reformed the convent, improving discipline and piety.
Stigmas and gloves.
She was very assiduous to meditation of the Passion of Christ and being one day while praying before a crucifix, it smote the wounds on the hands, feet and side. These stigmas were counted as false by many, including superiors and other religious. This was not to cause any wonder there have been more provoked and false stigmas than real ones. Pope Alexander VI called her to Rome and she was given an examination of her wounds by the Master of the Sacred Palace, Fray Bernardo de Resina. He strongly washed the wounds, to see if they were painted or superficial. Then he put some gloves of Alexander VI himself, tying with chains and padlocks, sealed with the sealing and shield the pope on her wrists, so that she could not get them off. If they were provoked wounds they would heal or will become infected, causing purulent matter. She was like that for nine days, after which, they broke the seals, removed his gloves and found the marks without corruption, fresh, although not smelling bad , blood and all though. Alexander VI, gave the marks as true (so it's not true that the ones of Francis and Catherine of Siena has been the only ones backed by the authority of the Church).
Pope Julius II personally moved her to Ferrara, against her will, as founder of the monastery of Santa Catalina, training the young people that asked the Dominican habit. Here she suffered slander, ridicule, insult for thirty-eight years. This, together with his penance and were consuming the diseases, to her death on November 15, 1544, at age 60, a lot given it was the sixteenth century. In 1710 her body was moved and it was found incorrupt, visible wounds of the Passion. Taken as a saint by the Sisters, Clement IX adopted the cult, while Benedict XIII extended it to the Order, and the cities of Ferrara, Viterbo and Narni.

As a complement, we say that the wounds or stigmata of the Passion, also received the Order of Dominics, as far as I know:
1. Saint Catherine of Ricci, virgin. February 4.
2. Blessed Stephanie Quizanis, virgin. 16 January.
3. Blessed Walter of Germany. March 2.
4. Blessed Francis Monzón, novice. 29 March.
5. Blessed Dodon of Friesland, religious. 25 March.
6. Blessed Elena of Hungary, virgin. 16 March. Interesting case, because he had a sore left hand first, and a few months later on the right, in which he was born a lily.
7. Blessed Matthew Carreri. Oct. 8.
8. Blessed Catherine of Racconigi, tertiary. 4 September.

By Ramon Rabre (text) and Marco Antonio Martinez Ruvalcaba (translation)