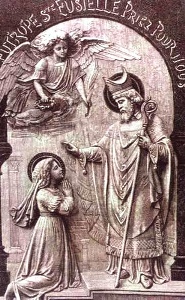 Question: Ramon, in today´s saint on www.catholic.net is Santa Estela or Star, do you have some image of it?, Plus I would get a better story about it, since what we have is very short.

Answer: As of this saint, the truth is that I knew almost nothing, so to get to work for colleagues of the page. Volume data from "The Lives of All Saints of France", a multi-volume work, nineteenth century, which says to take data from a seventeenth century work, which in turn would take the old documents and data froman anonymous, source which I see, is nothing more than "life" of St. Eutropius of Saintes.

Saint Eustelle, virgin. 11 May.
We are in the third century, when the Gaul has a governor, which the authors call the King, was not implying an independent king, but in the name of Rome (remember, I copy from the book). This king or governor had a beautiful daughter in the body and the soul called Eustelle. And we find the first problem: The original name is Eustelle, meaning "well-decorated" Latinized Stella (from where it went to Estrella in Spanish, Star in English) was a recreation of the writer Frederic Mistral in the nineteenth century, when Eustelle became patron of a literary movement interested in rescuing the Occitan language and literature.

And back to the third century: St. Eutropius coming to the region, to start preaching the Gospel, Eustelle soon became the Christian faith, although it knew that would upset his father, but I can more the grace of God that fears. He changed his habits, became more docile and obedient, more loving and leaving other non-Christian youth who had as friends, because of the danger it posed. He began to pray more often, to leave the rich dress and pomp of his court. So, your father knew that he had converted to Christianity and ordered her to leave this new faith, but Eustelle (as you imagine) responded "I rather die".

His father offered him gifts, an advantageous marriage and wealth, but she remained tight instead of abandoning Christ and, rather, he preached the truth of faith, the vanity of the world, the supremacy of Christ over all the idols and human wisdom. In short, a speech, more like a preacher of the seventeenth century, than from a young girl from the third century.

The blandishments, the father went to threats and punishments, to which, Eustelle still remained stronger. Then her father threw her out of the palace, despite the pleas of slaves and courtiers, who asked him reconsider. Eustelle accepted joyfully willing to suffer for Jesus Christ and left the house, and went where Eutropius, who received it with joy, while warning them of the persecution of Christians by the Empire. Eustelle retired to a hut, where he received Eutropius who spoke of things in heaven and the excellence of virginal consecration to God, which Eustelle determined to devote his life as a consecrated virgin. (1)

Knowing this Eustelle's father, ordered the murder of Eutropius, who knew by a divine revelation (c'mon, we didn't had to wait, it was obvious). Thus, the first stoned assassins while on his knees, forgiving. He eventually died from a blow to the head. Eustelle and other Christians buried his body with great reverence. Eustelle father told this would fear her daughter would return home to renouncing the Christian faith, but it was not: she stood firm, though no longer tells us more about her life of St. Eutropius. If Eustelle was martyred or not, or if your own father, style Dioscorus-Barbara, will take her life. Is likely to be a saint later, devout of St. Eutropius, or a hermit in the area, a benefactor of the church and that over time has been assigned a life connected with the saint.

However, the Saintes Breviary puts a martyr to May 21, saying the blessed memory Eustelle, baptized by St. Eutropius, whose father had her killed. Adds that she was buried in one grave of Eutropius, from where they were taken to build the basilica of St. Eutropius. In other words, takes it for a martyr, though not stated. In 1845, in recognition of the relics of St. Eutropius, another skull was found in a young person between 18 and 25, it was assumed was that of Eustelle, but we must recognize that this was taken well by the legend that she would have been buried near the holy bishop.

She still holds devotion in Saintes, where a chapel and a healing fountain, called "Santa Eustelle font" The faithful still flock there, and young women seeking husbands do their ritual of throwing two pins on the air, if they fall into a cross, is a good omen, will find it soon.
This fountain is believed the site where she retired, and that the fountain would be used by her and Eutropius, but excavations have found that it might be a fountain attached to the amphitheater of the city, which is a few meters from the site. And if it were not, however it is unlikely that someone looking for retirement do precisely with an amphitheater at one side, with all the noise and shows that there occurred. Still, the constant devotion and many miracles are documented. The book details what happened in 1645, when a deaf mute healed instantly and fifteen days later, he repeated the same with two young men that her mother took to the source, inspired by the first miracle.
By Ramon Rabre (text) and Marco Antonio Martinez Ruvalcaba (translation)
---
(1) Here's a long speech moralistic tone that is not part of the life of St. Eutropius, is only a speech he wrote the book, making clear the concept of story in hagiography: the facts must be at service training, advocacy, faith. That's why the lives of saints often suffer likelihood, because the story is subject to the teaching and preaching.